What is Section 179? 
Most people think the Section 179 deduction is some mysterious or complicated tax code. It really isn't, as you will see below.
Essentially, Section 179 of the IRS tax code allows businesses to deduct the full purchase price of qualifying equipment and/or software purchased or financed during the tax year. That means that if you buy (or lease) a piece of qualifying equipment, you can deduct the FULL PURCHASE PRICE from your gross income. It's an incentive created by the U.S. government to encourage businesses to buy equipment and invest in themselves.
Here's How Section 179 Works: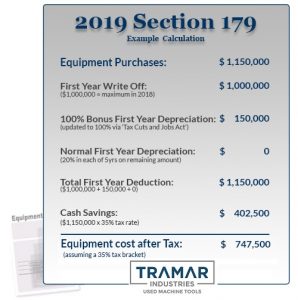 In years past, when your business bought qualifying equipment, it typically wrote it off a little at a time through depreciation. In other words, if your company spends $50,000 on a machine, it gets to write off (say) $10,000 a year for five years (these numbers are only meant to give you an example).
Now, while it's true that this is better than no write-off at all, most business owners would really prefer to write off the entire equipment purchase price for the year they buy it.
And that's exactly what Section 179 does – it allows your business to write off the entire purchase price of qualifying equipment for the current tax year.
This has made a big difference for many companies (and the economy in general.) Businesses have used Section 179 to purchase needed equipment right now, instead of waiting. For most small businesses, the entire cost of qualifying equipment can be written-off on the 2019 tax return (up to $1,000,000).
Limits of Section 179
Section 179 does come with limits – there are caps to the total amount written off ($1,000,000 for 2019), and limits to the total amount of the equipment purchased ($2,500,000 in 2019). The deduction begins to phase out on a dollar-for-dollar basis after $2,500,000 is spent by a given business (thus, the entire deduction goes away once $3,500,000 in purchases is reached), so this makes it a true small and medium-sized business deduction.
Who Qualifies for Section 179? 
All businesses that purchase, finance, and/or lease new or used business equipment during tax year 2019 should qualify for the Section 179 Deduction (assuming they spend less than $3,500,000).
Items that qualify for Section 179 Deduction:
Equipment (machines, etc.) purchased for business use
Tangible personal property used in business
Business Vehicles with a gross vehicle weight in excess of 6,000 lbs (see Section 179 Vehicle Deductions)
Computers
Computer "Off-the-Shelf" Software
Office Furniture
Office Equipment
Property attached to your building that is not a structural component of the building (i.e.: a printing press, large manufacturing tools and equipment)
Partial Business Use (equipment that is purchased for business use and personal use: generally, your deduction will be based on the percentage of time you use the equipment for business purposes).
Certain improvements to existing non-residential buildings: fire suppression, alarms and security systems, HVAC, and roofing.
Please note – the above equipment qualifies whether new or used (but must be new to you), and also regardless of whether it was purchased outright, leased, or financed.
Also, to qualify for the Section 179 Deduction, the equipment and/or software purchased or financed must be placed into service between January 1, 2019 and December 31, 2019.
Check out our website Tramar Industries and see what Inventory would work for you under Section 179. Want to see your actual savings – use the Section 179 Calculator